Luxury Hand Held Bidet Multi-Purpose Sprayer Stainless Steel
Ideal for people with pregnant, children, feminine hygiene, hemorrhoid, obesity or hypertension
PRODUCT HIGHLIGHTS
Strong and steady water pressure
Toilet mount or wall mount options
Easy to install and operate
Comes in full installation kit
Great suitable for the whole family
Product Features: The Bidet Sprayer set: comes in full installation kit, also can be used as shattaf, Muslim shower or toilet sprayer for rinsing and cleaning. This handheld bidet sprayer delivers a well cleansed feeling which traditional methods cannot provide. The stylish personal bidet attachment nozzle with spray is a low-cost simple addition to your existing plumbing with world class elegance.
Strong and Steady Water Pressure: You can adjust the water pressure by pressing the handle, providing you the great control. The pressure is strong and steady, perfect for daily use. 
Various Use: For personal cleaning/pet bath/bathroom corner cleaning/water closet cleaning ect, especially ideal for people with pregnant, children, feminine hygiene, hemorrhoid, obesity or hypertension to wash your bottom with soft/strong water by pressing the button. save money and great widely using. It is also great suitable for the whole family. The perfect solution for everyday personal hygiene contributes to a healthy and happy lifestyle.
2 Installation Options: The handheld bidet sprayer set also could be mounted to everywhere in your house: bathroom, kitchen, garden, garage as a pet shower, Muslim shower, toilet seat washer, cloth diaper, washer flusher, kitchen faucet, car shower sprayer, water flower tool etc. There are 2 mount options you can choose, toilet mount or wall mount, any one of option is easy to install and convenient to use. 
Installation: Easy to install in 10 minutes without professional plumbing help, the holder can be mounted on the toilet or on a wall. When installing this unit be sure that the water supply valve by your toilet is fully turned off and that there is no flow/leak of water before removing any plumbing components from your toilet. Failure to do so could result in flooding and water damage.
Package Included: As the picture showed below.
  User's Manual:  
Demo Video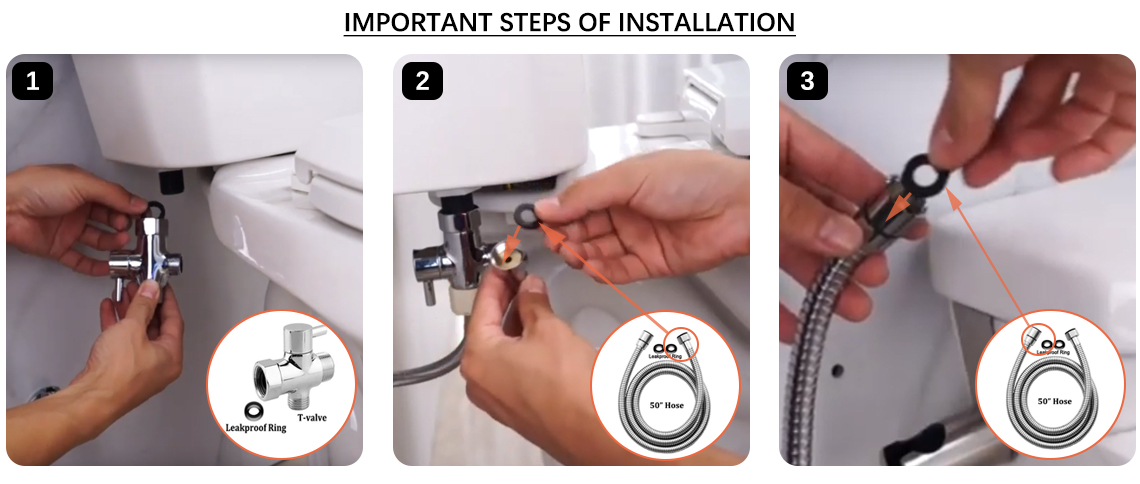 Specifications
Brand Name
Living Basics
Product Type
Bidet Spray
Size
210mm x 160mm x 60mm
Item Weight
650g
Shipping Weight
720g
Material
Stainless Steel 304 + Brass
Color
Brush Nickle
Power Source
Water-Flow
Flow Rate
< 2.5GPM@80PSI
Package Quantity
1x Handheld Bidet
1x Shut off Valve
1x 1.2 M Stainless Steel Supply Hose
1x Bidet Holder 
1x Bidet Holder Hook
1x 1.5M Tape
2x Screw 
2x Screw
1x Instruction