Fingertip Pulse Oximeter, Multi-Directional Display, Blood Oxygen Heart Rate, Infrared Measurement
Measures the SpO2 (Blood Oxygen Saturation level) and heart rate accurately in about 8 seconds or less
PRODUCT HIGHLIGHTS
CE Certificated (directly authorized by EC-REP)
FDA (510k) premarket submission approval
8s automatic shutdown, energy saving
One-button operation, simple and convenient
Small size, portable, lightweight, easy to carry
4-directional screen display with 6 display mode
Infrared detection, fast measurement in 5 seconds
SPO2 + heart rate sensor - AMS chips imported from Austria
Free lanyard included for carrying
Powered by 2 AAA batteries (not included)
Finger Pulse Oximeter is an easy and accurate way for spot-checking blood oxygen saturation levels and pulse rate. oximeter can quickly track your spo2, pulse rate and more in just seconds! This Oxmeter is a great partner for pregnant women, elder people, athletes, aviators and plateau traveler. Thanks to our one-button operation design, simply clip it to your finger and press the button for data.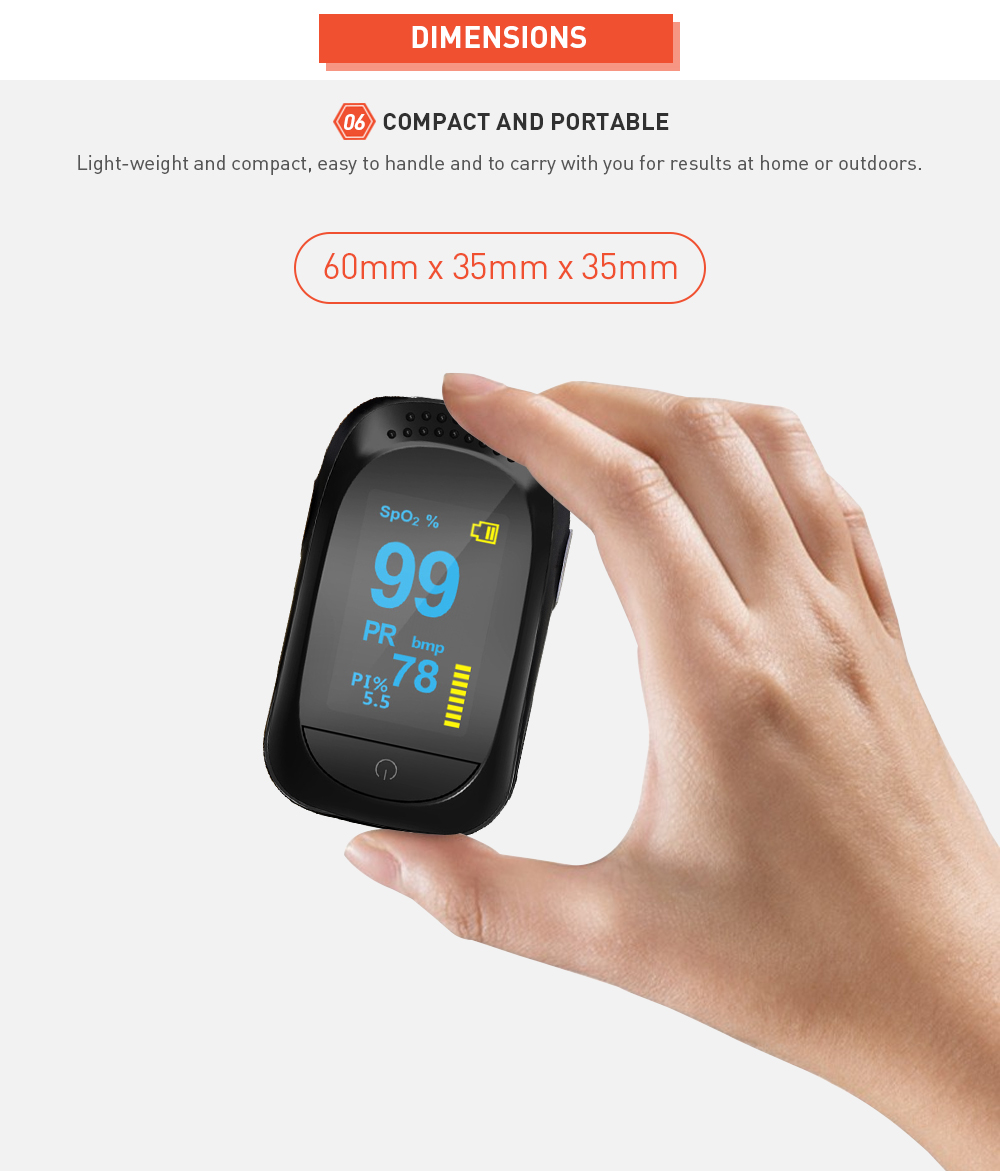 Easy to Use - Our pulse oximeter is easy to use and has an efficient One Button Operation. It will spot check and display in real time SpO2, pulse rate and pulse rate bar graph.
Accurate And Reliable Detection - Using the most advanced Austrian AMS chips and optical sensor, blood oxygen signal is collected by photoelectric sensing principle. Only need several seconds to get measurement results,very accurate and reliable.
4-Directional Display - The Display interface of "OLED" can rotate four direactions with six different display modes after pressing the power button for less than 0.5s.
OLED Display - Large bright OLED display with rotational display allows you to read clearly and conveniently from different direction. Besides SpO2 and PR, our product can monitor your piethysmogram and perfusion index on the screen too!
Auto Shut-Down - Automatically goes into sleep mode within 8 seconds after the finger has been removed and no signal detected. It also comes with a battery-low indicator. Powered by 2 x AAA batteries (not included).
Compact and Portable - Light-weight and compact, easy to handle and to carry with you for results at home or outdoors.
Suitable for All Ages - This pulse oximeter suitable for athletes and seniors who need to measure their SpO2 and pulse rate, including mountain climbers, skiers, bikers, aviators. The oximeter is intended use for check of blood oxygen saturation level at home, sports or aviation use.
Specifications
| | |
| --- | --- |
| Type of Protection Against Electric Shock | Internally powered equipment |
| Degree of Protection Against Shock | Type BF |
| Protection Against Ingree of Liguids | IP22 (protected against ingress of water when the water is dripping vertically and the monitor is tilted up to 15° |
| Mode of Operation | Continuous |
| Display Type | OLED display |
| Expected Service Life | 5 years |
| Spo2 Measurement Range | 70% - 99% |
| Spo2 Accuracy | ±2% on the stage of 70% - 99%, Unspecified (≤70%) |
| Spo2 Resolution | ±1% |
| PR Measurement Range | 30BPM - 240BPM |
| PR Accuracy | ±1BPM or ±1% |
| Power Supply | 2 AAA 1.5V batteries (not included) |
| Power Consumption | Less than 30mA |
| Battery Life | 2 AAA 1.5V alkaline battery can be used for 30 hours continuously |
| Battery Voltage | Low battery indicator appears before battery power is lowered to normal operation |
| Dimension | 60*35*35mm |
| Operation Temperature | 5℃ - 40℃ |
| Storage Temperature | -10℃ - 40℃ |
| Operation Humidity | 15% - 80% |
| Storage Humidity | 15% - 80% |
| Air Pressure | 70 - 106kpa |