Ergonomics Adjustable Gas Spring Desk Mount for Most 17"-30" LCD Monitors
Double USB ports with 75 x 75 and 100 x 100 VESA pattern
PRODUCT HIGHLIGHTS
With innovative mechanical spring inside
Made of aircraft aluminum
With DOUBLE USB ports
Support monitor up to 30''
Swiveled ±90° to get the optimum viewing angle
Tilt Angle 85° up and 15° down
For most 17"-30" LCD monitors with dual USB ports
Gas-Spring Adjustable Articulating Monitor Arm let you place your LCD display wherever you want it. Suspending the monitor up off your desk, the arm reduces desktop clutter and frees up valuable desk space. Even better, the counterbalanced gas-spring arm lets you easily adjust the monitor to the most comfortable position, helping reduce strain on your neck, shoulders, and eyes. The Gas-Spring Adjustable Articulating Monitor Arm enables endless monitor adjustment and smooth movement in any direction, including height up and down, extension / retraction forward and back, monitor tilt, swivel, and rotation for ideal ergonomic alignment. And unlike the competition, our mounting arm is rated for large monitors including most 30" models, making it perfect for any home or office.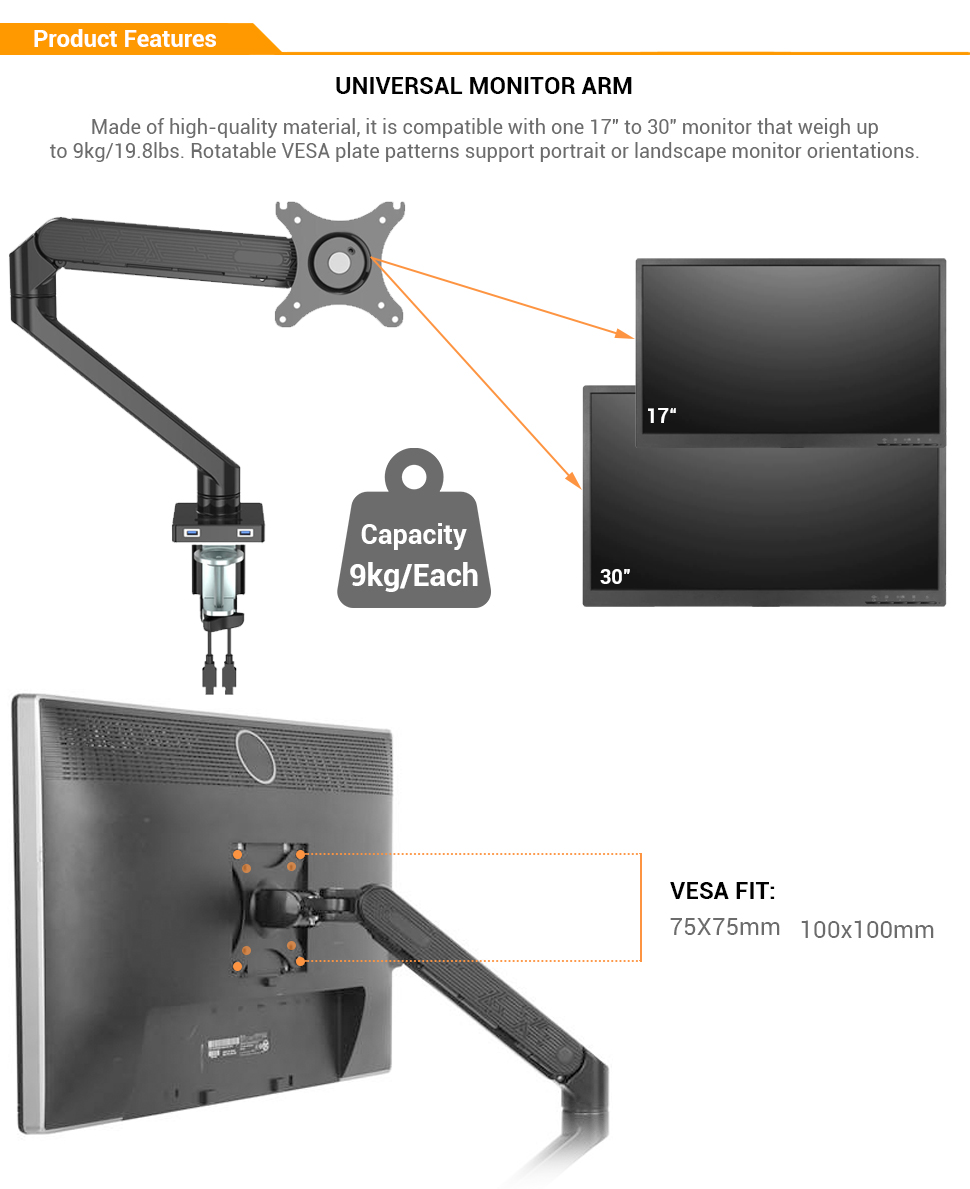 FORGET ABOUT NECK & SPINE STRAIN - Most monitors are far too low, forcing you to spend your entire working day with a crooked neck. With this monitor mount, the perfect angle is maintained between your monitor and your eyes, preventing neck strain by aligning your spine at the right position.
ERGONOMIC COMFORT - Wider adjustable range made possible by longer arms, height adjustment through the spring arms, swivel/articulate each arm connection, tilt and rotate at the monitor holder. The gas spring hovering system makes it incredibly easy to change monitor height with the touch of a finger.
GAS SPRING - The internal counterbalance pneumatic spring adjusts to the weight of your monitor to create a suspended, free-float effect that allows you to instantly adjust the height.
UNIVERSAL MONITOR ARM - Made of high-quality material, it is compatible with one 17" to 30" monitor that weigh up to 9kg/19.8lbs. Rotatable VESA plate patterns support portrait or landscape monitor orientations.
EASY SETUP - Organize your workspace and clear desk space by raising your monitors off the desk surface. Setup is quick and easy using the included edge clamp or grommet mount, so you'll be ready to go in minutes.
Features:
With dual USB ports
Support monitor up to 30″
With innovative mechanical spring inside
VESA Compatible:works with VESA 100x100mm and 75x75mm standard monitors
Sleek and streamlined appearance perfectly complements any contemporary workstation
Adjusting tool storage hidden design(provides convenience and avoids the tools missing)

Specifications
| | |
| --- | --- |
| Model | Cab-DLB903 |
| VESA | 100x100mm and 75x75mm |
| Weight | 2-9kg |
| Screen size | 17"-30" |
| Adjust | -85°- +15° |
| USB Port Version: | USB 3.0 |
| USB Extension Cable Length: | 5ft |