Baby Playpen, 14-Panel Foldable Kids Safety Activity Center Playard w/Locking Gate
PRODUCT HIGHLIGHTS
YOUNG PARENTS LIFESAVER: Keep baby safe in the baby gate there play centre when mom/dad needs to cook, clean up, go to the bathroom, etc. Perfect for Kids 6 Months+
FOLDABLE & EASY PACKING: Designed with a simple fold and go deign. Easy to set up and take down within seconds.Convenient both indoor and outdoors.
SAFETY MATERIAL: Crafted with high quality non-toxic commercial grade HDPE material widely utilized for every day products, perfect for your baby
STRONG AND STURD: Each panel bottom is outfitted with rubberized suction cups that create a sturdy base designed to withstand sliding and pen manipulation from your mobile child and comes with locking gate that is very secure and a great feature to walk in and out your toddler of the playpen
PROPER HEIGHT: The height of the panel is high enough for the baby to stand and walk while the area inside is plentiful for them to explore around
Are you worried about your baby when you do housework? We recommend this Baby Folding playpen Kids Activity Centre Safety Play Yard Home Indoor Outdoor for you. It's made up of materials with absolutely no toxic substances preventing all forms of odour. The moulding technique makes the structure stronger and durable for years. Any sort of manual deburring will avert the baby from getting hurt. You can also keep extra toys and colouring books for children to make their time more productive hence creating wonderful memories of their childhood.
YOUNG PARENTS LIFESAVER: Keep baby safe in the baby gate there play centre when mom/dad needs to cook, clean up, go to the bathroom, etc
SAFETY MATERIAL: Crafted with high quality non-toxic commercial grade HDPE material widely utilized for every day products, perfect for your baby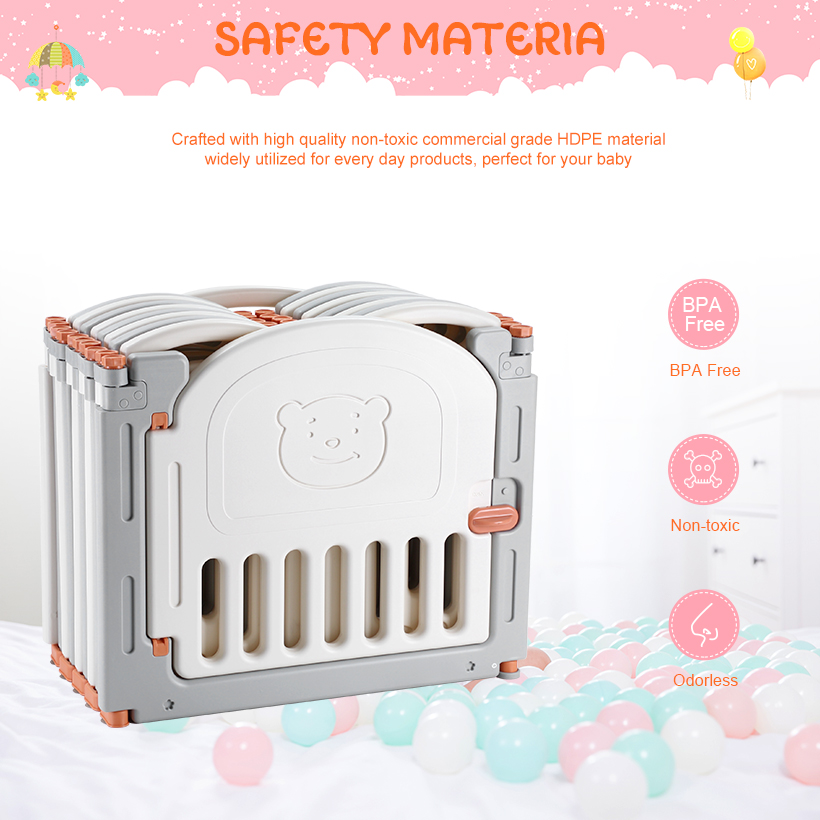 Each panel bottom is outfitted with rubberized suction cups that create a sturdy base designed to withstand sliding and pen manipulation from your mobile child and comes with locking gate that is very secure and a great feature to walk in and out your toddler of the playpen
PROPER HEIGHT: The height of the panel is high enough for the baby to stand and walk while the area inside is plentiful for them to explore around
FOLDABLE & EASY PACKING: Designed with a simple fold and go deign. Easy to set up and take down within seconds.Convenient both indoor and outdoors.
Square size: 55 1/8" x 52 3/4" x 23 1/4" (140 x 134 x 59cm), Round size: 71 1/2" x 58 1/4" x  23 1/4" (181.6 x 148 x 59)
CHOKER WARNING
MAKE SURE THE BABIES DON'T EAT THE SMALL COMPONENT.
Specifications
Size:

Square size: 55 1/8" x 52 3/4" x 23 1/4" (140 x 134 x 59cm)

Round size: 71 1/2" x 58 1/4" x 23 1/4" (181.6 x 148 x 59)

Weight:
12.2kgs/26.89lbs
Material:
HDPE