LED Grow Light with Samsung Chips & Mean Well Driver
Newest Plant Growing Lamps Full Spectrum 3000K 5000K 660nm 760nm IR Grow Lights, Ultrathin Plant Lights Full Spectrum Panel Grow Light for Indoor Plants Veg Flower
PRODUCT HIGHLIGHTS
【Full Spectrum Grow Light 】Plant Growth Lamp Similar to Sunlight, Full Spectrum 3000k 5000k And 660nm IR760nm, Suit for all plants whole stages indoor growing, Rapid plant Response from seed to flower
【Patent design 】The Latest Plant Light, The whole light is composed of a 4mm PCB board, The weight of the light is only 1.72kg, The grow light with 218 LEDs. Lightweight and concise integrated design, No assembly required, Easy to use.
【High Efficient And Waterproof】Compared with the ordinary lamp beads, The newest high efficient SMD LEDs on our grow light have higher light intensity, Less light decay, Better Lumens and Par values. IP65 waterproof design allows grow light working in all growing environments including wet situation, Never worry about the environments in your grow tent will hurt your grow light.
【Silent & Reliable】No Fan Noise Free. This Led light board is passively cooled by using a thick aluminum heat sink. Plus premium heavy-duty and solid construction with Leds protected by glue coating, User-friendly packaging. Quality components mean the light lasts longer.
【Best Service 】Our grow lights have been certified By CE, ROHS. It can be safely used for indoor plants, Hydroponics, Greenhouses, Etc. Livingbasics is committed to providing satisfactory products snd service, If there are any problems, please feel free to contact us.
【Recommendation for adjusting the height between led grow light and the plants growing stage】:Seeding Height 130-150CM. Vegetative Height:110-130CM.Flowering --Harvest Height: 50-70CM
Full Spectrum for Various Indoor Plants
According to the needs of different growth periods of plants, LED grow light was designed with full spectrum, which will obtain pure monochromatic light or compound wavelength for all growing stage and help your indoor plants grow faster and healthier.
Wide Applications Grow Light
Full spectrum grow light can be widely used for both hydroponics and indoor green plants, flowers, mainly used for small plants, like succulents, tomatoes, peppers , strawberry, lettuce, chili, and any other fruits and vegetables from seeding to harvest.
High-Efficiency
The unique 90-degree reflectors, which extend coverage, will result in higher PAR values and lumen output than other chips, brighter and more efficient than other led chips. This allows the growing amount of light to strike a balance between efficient utilization and energy conservation. With an excellent heat dissipation system, it can also reduce your electricity bill.
Our led plant grow lights widely apply to plant factory, greenhouse farming, flower farming, indoor gardens, grow tent, water soluble breeding, pipeline cultivation, various flowers and vegetables, such as orchids, eggplant, tomatoes, grapes, lettuce.
More smart and lightweight, upgraded hanging brackets make this grow lamps more Easy to assemble.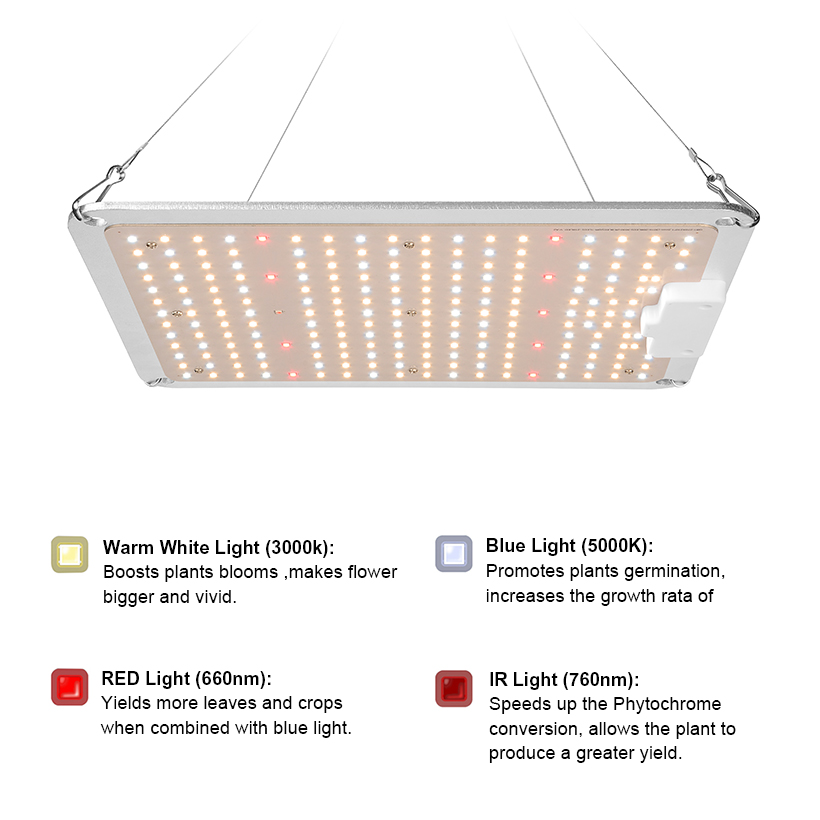 Our led grow light contains that warm white light(3000k) LEDS + Blue Light(5000k)LEDS + red light(660nm)LEDS + IR light(760nm)LEDS which is most effecive spectral ratio that plants mainly absorb, and providing similar to sunlight more highly uniform light for plants. Ideal for all growth stages.
The QB1000 grow light panel is covered by environmentally safe glue-coating; therefore, you no longer worry about dampness and risk of potential safety issues. The light will last for a long lifespan.
Our LED grow lamps widely apply to succulents, bonsai, various flowers and vegetables, greenhouse planting, plant tents, and plant factories.
Our full spectrum sunlight led grow light is perfect to use for all stages of plant growth, from raising plants from clone to budding without swapping lights. Whether you're growing tomatoes, vegetable, strawberry, pepper, microgreen or herb, AGLEX grow light covers you all stage growing needs and helps you get high yields. Perfect for your own indoor live plant gardening, shelves and tent growing.
 Even without a fan, it has good heat dissipation and a longer service life.No need to worry about the humid planting environment to damage the plants lamp.
Good structure and high-quality material selection make this indoor plant lamp is the newest trend for helping indoor plants growing.
Specifications
Size:11 13/16``X9 29/64``X2 11/64``(300mmX240mmx55mm)
Input power:110±5% W
Input voltage:100-277 VAC
Weight:1.72kg | 3.8lbs
Light Distribution:120 °
Waterproof:IP65
Heatsink:Aluminium